Reliable, Honest & Dependable Parts & Service you can count on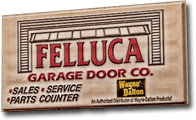 Felluca garage doors offers one of the largest and most comprehensive showrooms and parts department in New York State. Six days a week (Monday-Saturday) you'll find the Felluca service team on the road taking care of customers, and the company is fully insured.
As mentioned earlier, Felluca services most garage door makes and models so you can count on receiving honest dependable service. The showroom is located at 1674 Norton Street in Rochester, where you can choose from a complete lineup of garage door openers, garage door styles and colors. Felluca accepts VISA, MasterCard, and your estimate is free!
Call us today at 585.467.2391 for the reliable, honest and dependable parts and services you have come to expect and count on from Felluca Garage Doors!
Ann Benedict
Just wanted to say Thank you so much for fitting us into your already busy schedule. You went above and beyond for us. The installer was very nice and knowledgeable. He did a fantastic job. I put a post on my facebook page about how wonderful of a job you guys did. I hope it gets some extra business for you. Its hard to find a company you can trust and you guys have earned ours. Thanks again for fitting us in today and not making us wait till Monday. You will be recommended if I am ever asked for a referral. Thank you.
JIM GEISLER
THANK YOU FOR A PERFECT JOB RECENTLY… YOUR TECH WAS ON TIME AND DID A GREAT INSTALL ON OUR NEW MOTOR(BELT DRIVE) WILL CALL ON YOU GUYS AGAIN!!!!! ALL THE BEST JIMMER
Tim Golan
It was a pleasant experience dealing with you yesterday. Prompt service, polite, professional, wonderful service. No hidden charges. Just honest service. Keep up the good work.
Donna Phillips
I am writing to comment on the excellent service I received today from your representative, Shawn Fitzgerald. He did a great job and answered all my questions. Hence I would recommend Felluca Garage Door to those needing service of that kind.
Lyle and Maureen Hibbard
We just had our garage door opener installed by Ron. We want you to know that he was exceptional in every way. He arrived promptly, informed us approx how long it would take to install. He explained everything we needed to know and answered all our questions. We just want you to know that we think you have a valuable employee!!
Frank A. West
Hello, Just wanted to tell you what a positive experience we had with your company. Mike in service was great and the person sent to my home performed an outstanding job. My garage door has never worked better. Thanks for the quality work.
Steve Chartrand | CEO – Arc Foundation
Just wanted to let someone know how important customer service is….. Called regarding a broken spring with one of our garage doors… Friendly and courteous over the phone along with prompt response… Then came Ron……. What an attitude… up, polite, truly professional. You can tell he just loves what he does, makes you feel good …. All set, door works great, just had to tell someone.
Todd McCarthy
The Felluca service rep arrived on time and finished his work within an hour. Everything should be that easy!
Patti Casciani
Hello Tim – I cannot remember if I sent you a thank you or not. You know, it's a mind thing. If I did, forgive me for bothering you and let this one be a note for someone that should have sent one and didn't. If I did not send one, please forgive me for my rudeness! We want to say thank you so much for coming out to the house this past summer and getting our garage door replaced. We are so pleased with it. We don't get into specifics with people, but certainly tell friends and family to only buy a garage door from Felluca. I don't know if you've ever seen the commercial for, I believe, Pella Windows where everyone yells to the drivers that they like their new windows; that's how I feel when I see a Felluca truck. I think about yelling out, thanks for the wonderful garage door, but thank you more for the wonderful service. Again, I apologize for my rudeness for not getting out a thank you (I'm sure I didn't) out to you and thank you so much for the wonderful service of replacing our garage door. We will definitely be back again for a garage door when we move and will continue to give out Felluca's name to anyone looking for a garage door!
Sincerely,Patti Casciani P.S. – Please also express our appreciation to the Wayne Dalton company for replacing our garage door as well. Thank you.
Chuck Canham
Thanks for the prompt and extremely honest service today, Ron was a pleasure to deal with, a true professional. I will gladly recommend Felluca to anyone.
Julianne Hemmingway
I have used Felluca on both of my houses in Rochester and couldn't be happier. I only wish they could service the Florida area as well!
Chuck Robinson
Garage door and opener are whisper quiet now. Not only did they install the new opener but they also made the extra effort to spray the tracks to ensure everything about the door was as quiet as can be.
Barbara Kenyan
I had a broken spring and called Felluca. They came out after normal working hours to help me out so that I could get out of my own garage – Thank you Felluca!